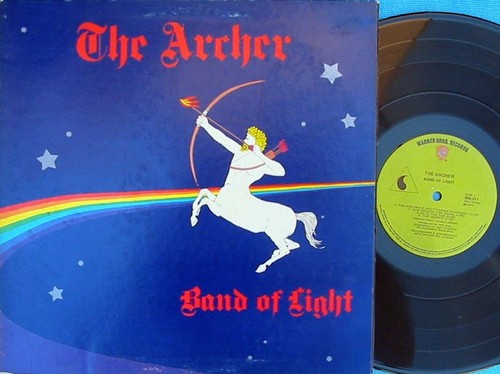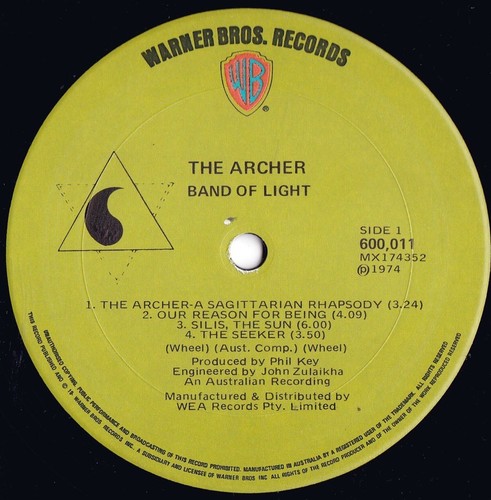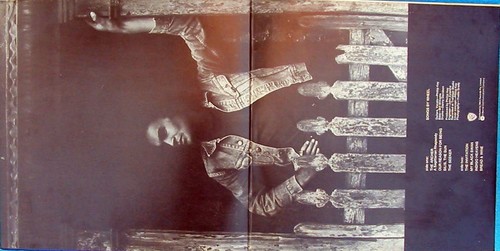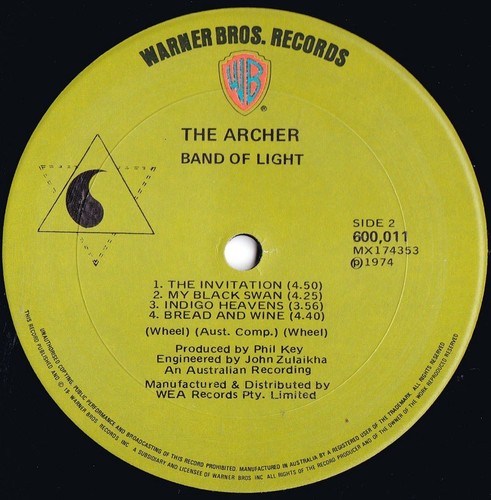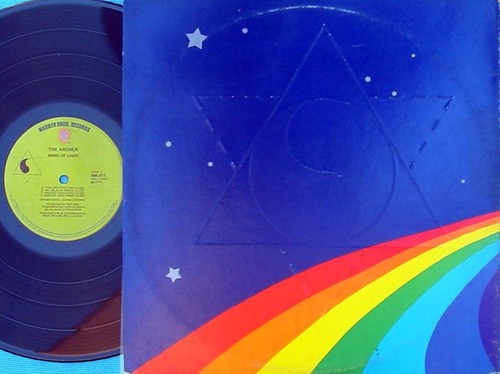 Band Of Light
The archer
Rare Original OZ LP released in 1974 on the Green Warner Records Label. Cat: 2600011. This album has a gatefold sleeve.
Band of Light was a blues-based Sydney group, formed in October 1972 by Phil Key, with bassist Peter Roberts, who had both just left The La De Das. Phil Key was of course a founder member, the rhythm guitarist and lead vocalist in that legendary band. Peter Roberts was a more recent member he joined in late 1970 and helped to revitalise the group during a difficult period, after their disastrous English trip and the departure of original bassist Trevor Wilson. Their distinctive blues/Prog sound was built around the dual slide guitar work of Key and their other superb guitarist, Norm Roue (who had come from Sydney band Gutbucket). Peter Roberts left after only three shows and was replaced by Ian Rilen, who was to become a fixture on the Australian rock scene in the 70s and 80s. The band worked consistently on the Sydney and Melbourne pub/festival/dance circuits, alongside other staple acts of the day like Billy Thorpe and the Aztecs, Carson, Coloured Balls, Chain, Madder Lake and Buffalo.
Band Of Light signed a recording contract with WEA in early 1973, and had immediate success in July when their first single Destiny Song made the national Top 40, peaking at #18. They followed up with a successful debut LP, Total Union, in August, which made the national Top 20 album chart, peaking at #13. A third single, the non-album track Moonstruck was released in November, but it didn't chart.
They continued to be a popular live draw throughout into 1974, but in mid-year, on the verge of recording their second album, Rilen, Roue and Buettel all left the band. Phil called on Billy Williams (bass, ex Classic Affair) and Dannie Davidson (drums, ex-Tamam Shud, Kahvas Jute) to replace Rilen and Buettel and cut the record, which was titled The Archer and released later in the year. Tasty blues prog with funky elements. Lovely guitar playing throughout.
Tracks: The archer (A Sagittarian rhapsody)/ Our reason for being/ Silis, the sun/ The seeker/ The invitation/ My black swan/ Indigo heavens/ Bread & wine.
There are only a few very faint spindle marks on labels. Record has a few light scuff marks that cause a few light crackles throughout and is in Excellent condition. Gatefold cover has some ring wear and tiny surface tears around edges, No sign of any seam splits. Cover is in VG+ condition.
Payment is accepted by Paypal. Within Australia we also accept Direct deposit transfer and Australia Post Money Orders.
Wrapping method:
All records are sent in stiff cardboard mailers then wrapped in brown paper and sealed around edges with brown packaging tape. Records are taken out of sleeve to avoid seam splits and ring wear.
Post methods within Australia:
All records are posted via Australia Post. Within Australia all items come with a tracking number.
Post method for overseas:
All parcels are sent via Australia Post and are sent on a standard airmail service. There are no tracking numbers on these items. If you require a tracking number the item will have to be sent as an insured item which incurs a further postage fee.
We offer combined postage for multiple purchases.