Click images to enlarge


  THIS WEEK WE ARE SELLING THE BULK OF THE REMAINDER OF MY PRIVATE COLLECTION (SAVE A FEW FOR A RAINY DAY).  THE COLLECTION ENCOMPASSES THE BREADTH OF THE AFRICAN MUSICAL DIASPORA. 

AS USUAL, THE COLLECTION IS HEAVY IN BRAZIL, LATIN & JAZZ LPS.  HOWEVER, IF YOU LIKE ALL KINDS OF MUSIC, PLEASE TAKE THE TIME TO LOOK THROUGH THE WHOLE COLLECTION, THERE ARE RARITIES IN EVERY MUSICAL CATEGORY.

THE COLLECTION, FOR THE MOST PART, IS IN EXCEPTIONAL CONDITION HOWEVER THERE ARE FEW THAT ARE OFF CONDITION - PLEASE READ CAREFULLY. PLEASE NOTE:  ALL REQUESTS TO END AUCTIONS EARLY WILL BE IGNORED.  ALSO, ALL REQUESTS AFTER THE AUCTION ENDS TO BUY ANY UNSOLD LP FOR LESS THAN THE ORIGINAL STARTING PRICE WILL ALSO BE IGNORED.  THANKS FOR YOUR CONSIDERATION AND GOOD LUCK BIDDING.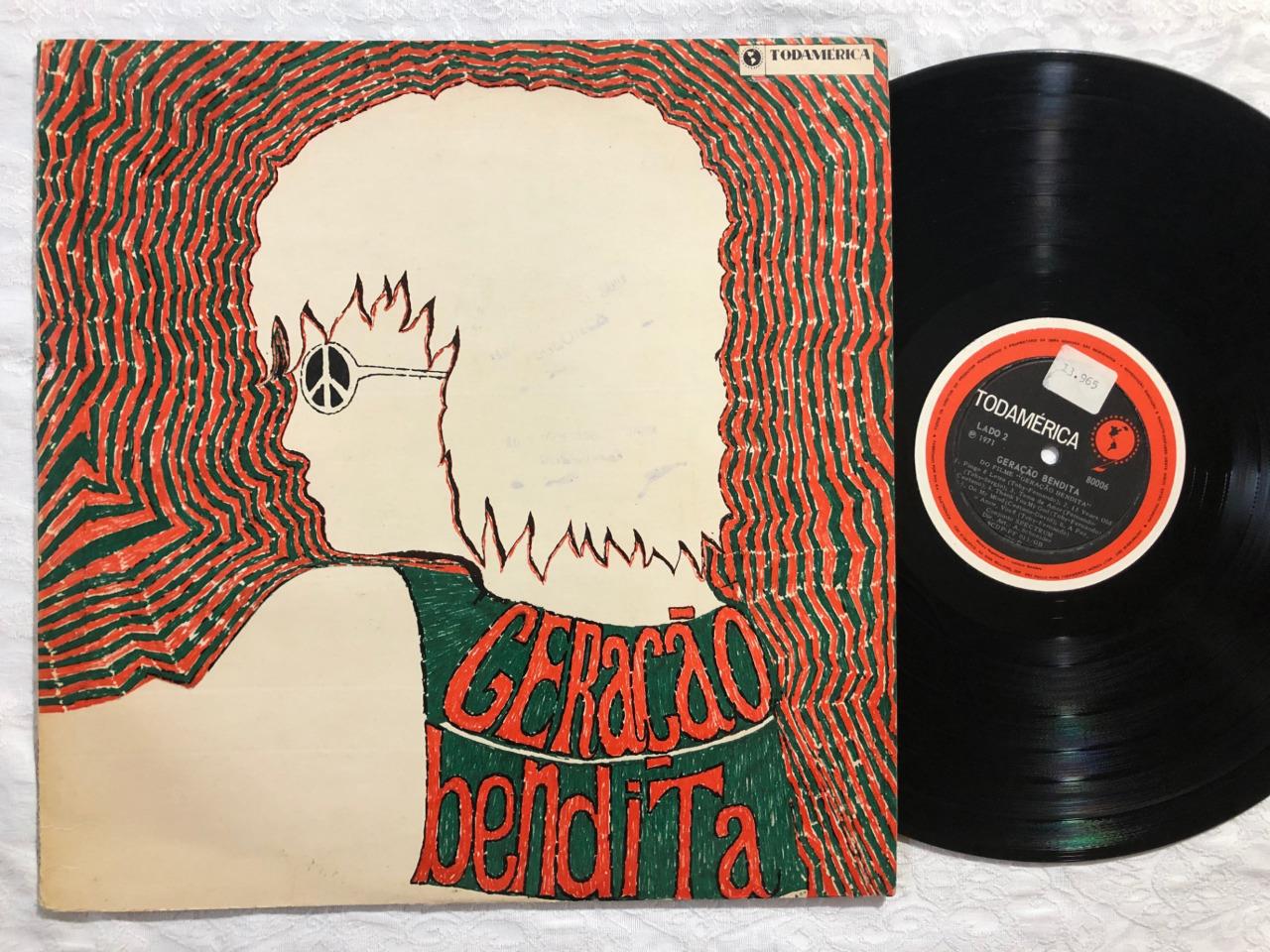 CONJUNTO SPECTRUM
Geracão Bendita
TODAMÉRICA
 ORIGINAL 1971 BRAZIL PRESSING

HOLY GRAIL OF BRAZIL PYSCH GARAGE - IN-DEMAND SOUNDTRACK OF BANNED BRAZILIAN FILM --  THIS ONE NEVER SHOWS UP...ANYWHERE
| | |
| --- | --- |
| "If you like Modulo 1000 you'll love this one. Maybe the best Psych album ever released in Brazil with heavy guitar sounds, beautiful vocals and well-crafted songs. A hippy soundtrack starring the band itself. The movie was banned in Brazil. Geração Bendita (Blessed Generation). It was 1971, two years after Woodstock, and the Brazilian youth were still trying to live the hippie dream of the 'Age of Aquarius', even though a little late. In the wave of peace and love, a group of young musicians and moviemakers from Nova Friburgo, in Rio de Janeiro, dove into the production of what became known as 'the first Brazilian hippie movie'. Entitled Geração Bendita, the movie, directed by Carlos Bini and shot in Rio, has become something of a cult classic, remembered for both its visual imagery of the period and the rare and wonderful Original Soundtrack album that it spawned. Recorded in the studios of Todamérica in Rio de Janeiro, the album, also called Geração Bendita is credited to Spectrum, formed by the ex-members of the 2000 Volts band and actors/musicians appearing in the movie. The album assembles twelve songs with lyrics in Portuguese and some in English, most of them speaking about peace, love, freedom, nature and other themes and meaningful values of that time. Accentuated with plenty of fuzz guitars and vocals in a 'Beatles-style', the record was hailed as a world-class production and the talents of the group above the national standard of that time." |   |
COVER:  VG+ -- GLOSSY COVER HAS LIGHT WEAR
VINYL:  VG+/VG++ -- BETWEEN A VG+ AND VG++ -- CLEAN WITH JUST A FEW LIGHT SCUFFS - IMPOSSIBLE TO FIND IN ANY CONDITION
PLEASE CHECK CLIP FROM ACTUAL LP FOR SALE BELOW:
PASTE LINK BELOW IF SOUND CLIPS DO NOT WORK
https://app.box.com/shared/static/2ut3t4pmi0beeq4p7x1hsu1otxwt7mm7.mp3

PLEASE CHECK LINK BELOW TO SEE AUCTION OF MORE BRAZIL LPS

CLICK HERE TO SEE REST OF AUCTION
Add me to your Favorite Sellers
GRADING SCALE: NM, VG++, VG+, VG, G
ALL RECORDS ARE GRADED VISUALLY BUT ARE SOUNDCHECKED OR PLAYED THROUGH ON A REGA RP1 WITH A DENON DL 110 CARTRIDGE.  COMMENTS ON SOUND ARE PURELY OUR OPINION AND THEREFORE SUBJECTIVE. THE SAME RECORD/LP MAY SOUND DIFFERENT ON ANOTHER SYSTEM OR SETUP.  VG+ MEANS VINYL IS RELATIVELY CLEAN, COLLECTIBLE AND HIGHLY LISTENABLE - NOT TRASHED.
SHIPPING:
DOMESTIC:
$4 MEDIA MAIL; $1.00 FOR EACH EXTRA LP
INTERNATIONAL SHIPPING
:
CANADA
:
  $16.00 FOR FIRST LP; $6.00 FOR EACH EXTRA LP.
EUROPE, ASIA, SOUTH AMERICA, AUSTRALIA
:
$25.00 FOR FIRST LP; $6.00 FOR EACH EXTRA LP.
PAYMENT IS EXPECTED WITHIN 4 DAYS AFTER AUCTION CLOSES.
ALL ITEMS ARE MONEY BACK GUARANTEED.  FOR RETURNED LPs BUYER MUST NOTIFY SELLER OF A PROBLEM WITH RECORD AND MUST RETURN ITEM IN ORIGINAL CONDITION BEFORE REFUND WILL BE PROCESSED.
WE ARE BACK THIS WEEK SELLING OUR COLLECTION.