Click images to enlarge


  THIS WEEK WE ARE SELLING THE BULK OF THE REMAINDER OF MY PRIVATE COLLECTION (SAVE A FEW FOR A RAINY DAY).  THE COLLECTION ENCOMPASSES THE BREADTH OF THE AFRICAN MUSICAL DIASPORA. 

AS USUAL, THE COLLECTION IS HEAVY IN BRAZIL, LATIN & JAZZ LPS.  HOWEVER, IF YOU LIKE ALL KINDS OF MUSIC, PLEASE TAKE THE TIME TO LOOK THROUGH THE WHOLE COLLECTION, THERE ARE RARITIES IN EVERY MUSICAL CATEGORY.

THE COLLECTION, FOR THE MOST PART, IS IN EXCEPTIONAL CONDITION HOWEVER THERE ARE FEW THAT ARE OFF CONDITION - PLEASE READ CAREFULLY. PLEASE NOTE:  ALL REQUESTS TO END AUCTIONS EARLY WILL BE IGNORED.  ALSO, ALL REQUESTS AFTER THE AUCTION ENDS TO BUY ANY UNSOLD LP FOR LESS THAN THE ORIGINAL STARTING PRICE WILL ALSO BE IGNORED.  THANKS FOR YOUR CONSIDERATION AND GOOD LUCK BIDDING.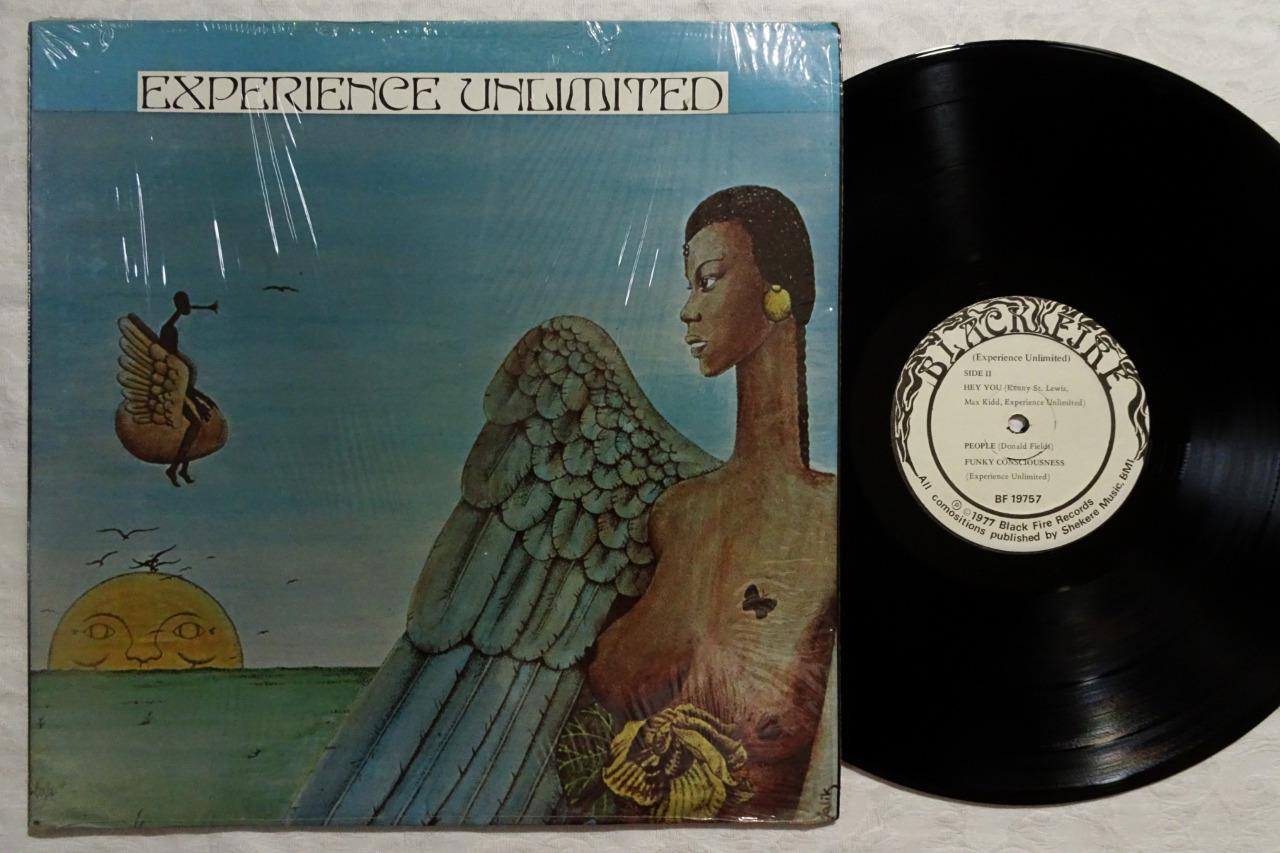 EXPERIENCE UNLIMITED
s/t
BLACK FIRE
 ORIGINAL  PRESSING
COVER:  VG+ -- STILL IN SHRINK, COVER IS A LITTLE WARPED FROM THE TENSION OF THE SHRINK.  NICE CONDITION.
VINYL:  VG++ -- LOOKS RARELY PLAYED.  VERY CLOSE TO NM
PLEASE CHECK LINK BELOW TO SEE AUCTION OF MORE SOUL LPS

CLICK HERE TO SEE REST OF AUCTION
Add me to your Favorite Sellers
GRADING SCALE: NM, VG++, VG+, VG, G
ALL RECORDS ARE GRADED VISUALLY BUT ARE SOUNDCHECKED OR PLAYED THROUGH ON A REGA RP1 WITH A DENON DL 110 CARTRIDGE.  COMMENTS ON SOUND ARE PURELY OUR OPINION AND THEREFORE SUBJECTIVE. THE SAME RECORD/LP MAY SOUND DIFFERENT ON ANOTHER SYSTEM OR SETUP.  VG+ MEANS VINYL IS RELATIVELY CLEAN, COLLECTIBLE AND HIGHLY LISTENABLE - NOT TRASHED.
SHIPPING:
DOMESTIC:
$4 MEDIA MAIL; $1.00 FOR EACH EXTRA LP
INTERNATIONAL SHIPPING
:
CANADA
:
  $16.00 FOR FIRST LP; $6.00 FOR EACH EXTRA LP.
EUROPE, ASIA, SOUTH AMERICA, AUSTRALIA
:
$25.00 FOR FIRST LP; $6.00 FOR EACH EXTRA LP.
PAYMENT IS EXPECTED WITHIN 4 DAYS AFTER AUCTION CLOSES.
ALL ITEMS ARE MONEY BACK GUARANTEED.  FOR RETURNED LPs BUYER MUST NOTIFY SELLER OF A PROBLEM WITH RECORD AND MUST RETURN ITEM IN ORIGINAL CONDITION BEFORE REFUND WILL BE PROCESSED.
WE ARE BACK THIS WEEK SELLING OUR COLLECTION.